High feed milling is the result of the development and extreme machining of face milling.

If previously, with traditional milling, cuts with high depths were made using very powerful machines, today it is possible to increase the chip volume with the use of less power.

The speed of the production process can increase up to 5 times more than the past.

If you want to discover more about the features of this cutting methodology, read our blog article about high feed milling.

What are the real benefits if you choose to perform mechanical machining with high feed milling?
Low cutting depth combined with higher feed rate (until 2.0 mm/ tooth) allows higher productivity.
The chip thickness can reach up to 0,2mm.

Greater stability and rigidity of the spindle
By increasing the shear force at the axial level and decreasing the insert pressure at the radial level, it improves the stability and rigidity of the spindle.

Reduced risk of tool breakage
By increasing rigidity, the risk of breakage of the cutter is reduced.

Use of machines with less power
The reduction of the cutting depth allows high feed rates with the use of less power, despite the cutter works very fast.
The finishing of the profiles is much more precise, thus reducing the need for additional

semi-finishes.
By increasing stability the life time of the insert increases.

Suitable for non-linear geometries
High feed milling is particularly suitable for machining that requires non-linear shapes, because the cutting precision and the possibility of working on deep cavities increase significantly.

Greater ease of chip evacuation
The chip thickness decreases a lot compared to traditional milling, facilitating the evacuation of the chip from the cavities.
Which milling cutters are suitable for high feed rates?
S846W..

S848W..

S849W..

S1502

S1503.6LW..

S1503.8W..

S1503.9W..

A type of milling cutters that can take advantage of this technique of material removal are the SAU cutters at 45 degrees indicated below, where using the SEKX 13T3 insert at a maximum "ap" depth of 2mm you can have a feed up to 0.6mm at the cutting edge.
S438..

S438W..

S438WF..

S438G..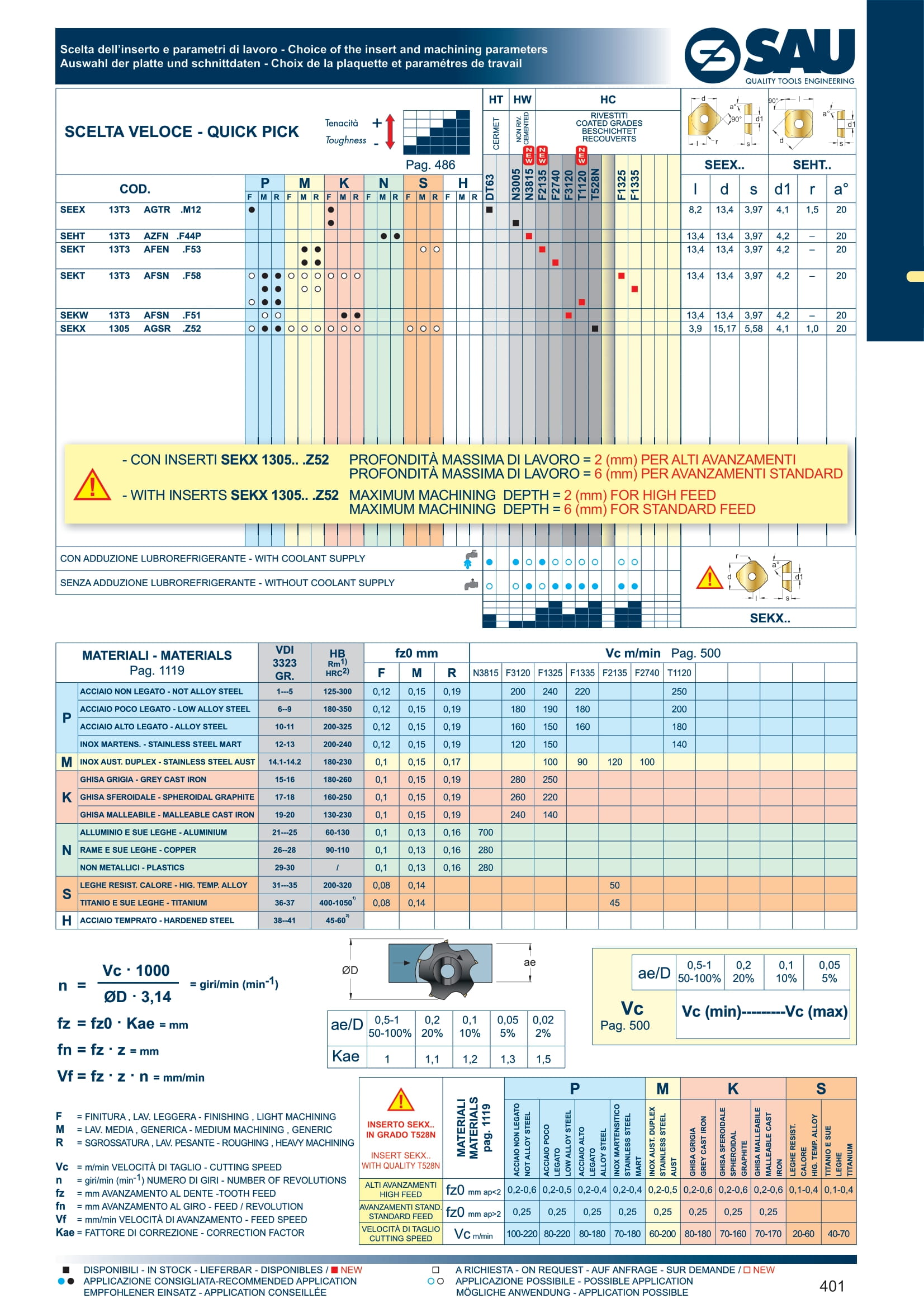 In order to avoid productivity losses, it is always necessary to identify the shape of the ideal insert in relation to the profile to carry out in the machining.
Do not hesitate to call for free advice from a SAU technician.