News
BURNISHING TOOLS for threading
Discover the features and advantages of the new SAU burnishing tools, equipped with cooling channels for a more precise thread.
---
Traditional tapping and roller tapping
The machining of threading or tapping is divided into two macro-families: threading by cutting and the one by cold deformation (also called rolling).

The first one is usually the most used, but the roller threading is increasingly in demand.

In this article we will explain why and what advantages can be obtained thanks to the new SAU burnishing tools.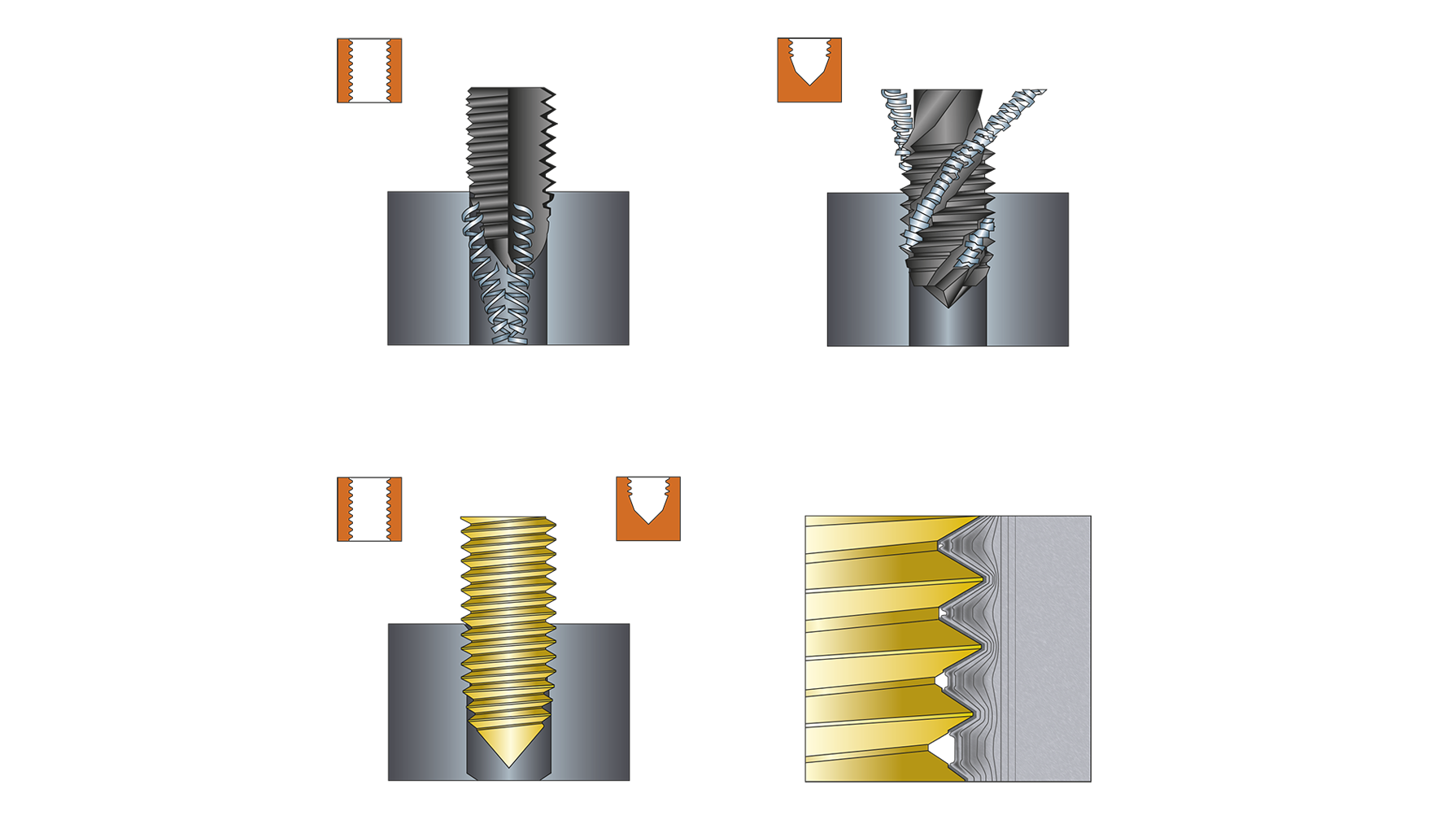 Burnishing tools for threading | Features
Traditional tapping, as we mentioned, involves the cutting of the material.
Roller tapping, instead allows a threading through plastic deformation.

These are two clearly different processes, and it must be considered that the second one involves a hardening of the thread crest, with an increase in static and dynamic tensile strength of about 10-12%.
The burnishing tools can be used for both blind and through holes, thus eliminating the problems of chip management.

Since it doesn't need the sharpening of the cutting edge, the solid core makes the tap stronger, allowing to obtain more precise threads, with a surface finish superior to the traditional method.

This type of technology requires a torque 2-3 times higher than traditional taps, and it is suitable for threading materials with a maximum hardness of 1000-1200 N/mm2, because the excessive hardness would not allow plastic deformation.
SAU burnishing tools for threading
SAU presents its new burnishing tools, with cooling channels, which give a better quality of the thread and a longer life.
SAU burnishing tools for threading | Advantages
Here the important advantages that are possible thanks to the innovative technology of the SAU burnishing tools:

More control in making pre bores;
They are suitable for all materials with an elongation coefficient equal to or greater than 10% and a tensile strength up to 1000-1200 N/mm2 (for example, long-chip steels, stainless steel, pure titanium, aluminum, copper, brass .. );
Compared to the cutting process, the fibers do not break, but deform, remaining intact;
They are equipped with cooling channels for perfect cooling lubrication;
High safety process due to the absence of chips, ideal for deep tapping.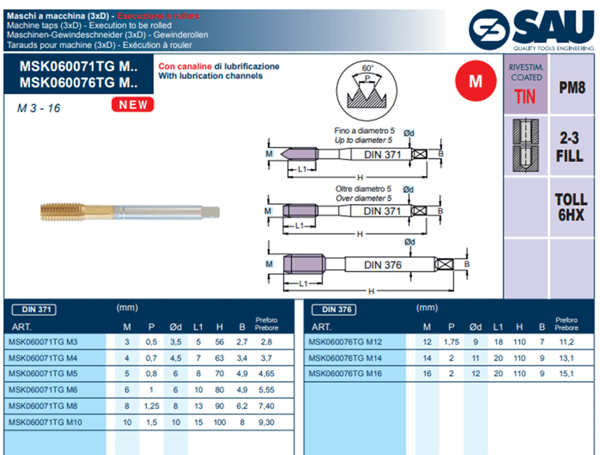 SAU burnishing tools for threading | Requirements
For a correct use of it, it is necessary to follow some precautions:

Depending on the diameter of the pre-bore, different characteristics of the thread are obtained. This entails greater control in making the pre bores;
Good machine power is required to allow the spindle to perform the threading;
It is necessary to perform the machining with working cycle in rigid or synchronized tapping.
Conclusions
SAU has set up assembly lines for many multinational companies around the world. If you want to find out more about burnishing tools with cooling channels and optimize your workmanship, do not hesitate to contact us.