The shrink fitting is a fastening system that allows to tighten the tools in carbide and super fast steel with a cylindrical shank, for quick, lean and decluttering machining.
How does the shrink fitting work?
Thanks to the increase of the temperature of the spindle (300° - 340°) in a few seconds the expansion of the internal diameter is achieved, allowing quickly the insertion of the tool suitable for the defined machining.




Once the spindle has cooled down, the internal hole returns to its original size and the tool remains extremely rigid, thanks to a very high radial clamping force.
The result is a much greater balancing compared to cold shrinking, ensuring greater stability and avoiding oscillations, undulations and vibrations.
This technology is ideal for the company that needs lean, rigid and precise machining.
Thanks to a quick insertion and extraction of the tool, higher and faster performances are obtained, which are optimal for example in the case of super finishes.

Read more about the advantages of this technique in the blog article.

For which mechanical processes is indicated?
The processes for which it is most suitable are milling, drilling, boring and wherever high precision, high rigidity and execution speed is required.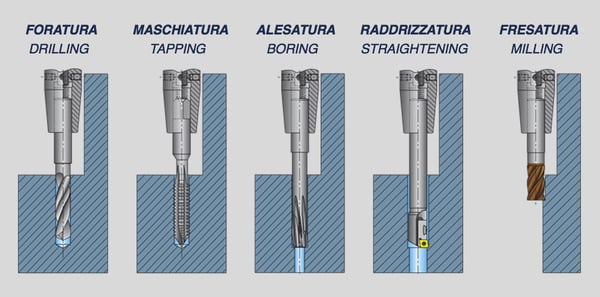 One of the many advantages of this system is the reduction to a minimum of the overall dimensions in the cutting area, a fundamental requirement in the deeply decluttered machining and that require extreme precision.
We remember you that for the shrink fitting is necessary to use spindles with cylindrical shank in tolerance H6 or lower.
What are the areas of use?
The shrink fitting is a type of clamping suitable for many industries and mechanical workshops. The main areas of use are automotive, mechanical construction in general, biomedical, aeronautical and aerospace.
The power of the induction machine for shrink fitting and the consequent performances are different.
More powerful is the machine, faster the expansion will be and the external body will expand faster, significantly reducing processing times.
Contact a SAU technician to find out which induction machine is best suited for the machining you need to perform.