Thanks to the automatic adjustment, the DINAPLUS® torque screwdriver allows you to fix the blades without slipping or vibration.
The difference between a manual or electric screwdriver and a screwdriver with automatic adjustment is the ability to properly tighten blades, screws and bolts.
How many times your inserts have suffered a breakage?
How many times have you failed to tighten them properly?
In particular the tightening of tools with TORX® and TORX® PLUS footprint requires screwdrivers with adjustable torque force, so that they can be used for different blades.
In fact, the torque screwdriver has the ability to self-tighten the clamping force.
This means exerting the right high torque forces without the risk of damaging the footprints.
Discover in this article the advantages of the TORX® and TORX® PLUS footprint tightening.
Advantages and technical characteristics of the new DINAPLUS® screwdriver
Let's see in detail the advantages of the DINAPLUS® torque screwdriver:

Rapid use, immediate adjustment, self adjustment
Better clamping of the blade
Use for more blades
Easier unscrewing, without clutch
Optimisation of the clamping effort
Longer blade and screwdriver life
The first benefit for DINAPLUS® users is definitely the speed of the screwing. The regulation of the blade clamping is immediate, because the screwdriver is self-setting.


Blades are calibrated in the most correct way, avoiding excessive tightening and the consequent breakage of the blades or the locking and breaking of the screws.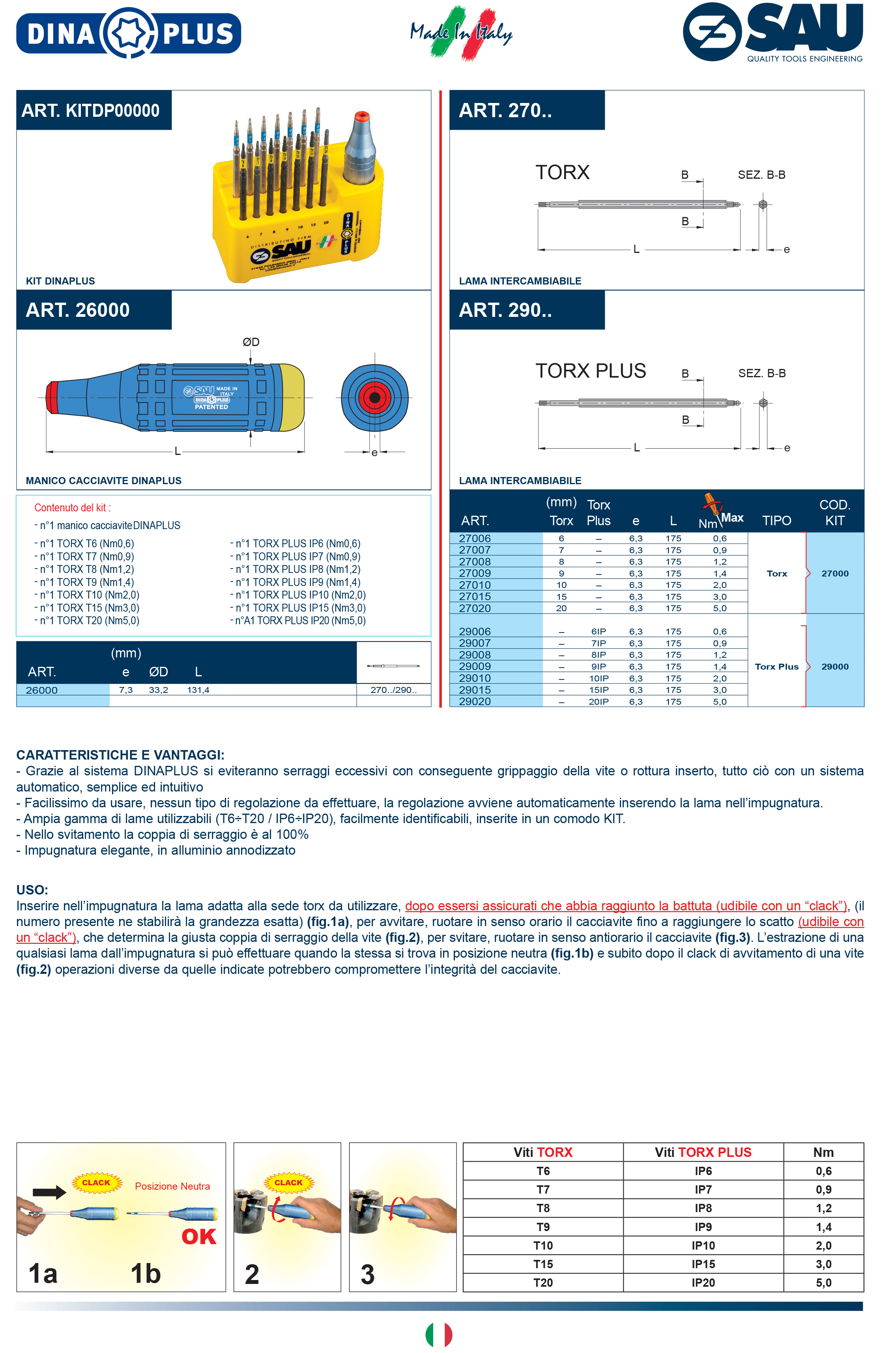 DINAPLUS® is equipped with a kit with a wide range of blades (T6-T20 / IP6-IP20), clearly identifiable thanks to a band of different color.
The technician will no longer have to use various screwdrivers, because he will have all the inserts available in a single solution.
The unscrewing has a 100% tightening torque. Forget the broken inserts and screws. Unscrewing will be quick and easy, because the clamping force is optimized, avoiding the cam-out effect.
The DINAPLUS® screwdriver is virtually eternal, indestructible, with a comfortable anodized aluminum handle.
The blades also have a higher strength. If one of the blades should break, you will have to buy back only that one, unlike a normal screwdriver that you should buy back in full!
Conclusions

SAU has set up the assembly lines of many multinationals and the advice of the specialized technicians is to use a DINAPLUS® screwdriver for each line, in order to speed up the company's production cycles even more.
For more information about the use of the DINAPLUS® dynamometer screwdriver, and to know how it is used, do not hesitate to contact a SAU technician.