Optimizing the storage and the recovery of products automatically is the goal of modern logistics. A warehouse used for the allocation of small and medium-sized objects needs automatisms that in the past were unthinkable, but that today thanks to new technologies are possible.
In fact, companies are constantly looking for automatic storage systems integrated with their management systems, therefore with state-of-the-art software designed to measure.
On the market there are various types of automatic warehouses, but often they are readjustments of old general distribution machinery, which only manage codes and can be partially integrated with their own management systems.
To overcome all these critical issues, SAU has created THE BOX: the first automatic vertical warehouse specific for tool management with a software designed and developed by toolmakers.
Let's see the features of the software in detail.
The software of the automatic vertical warehouse THE BOX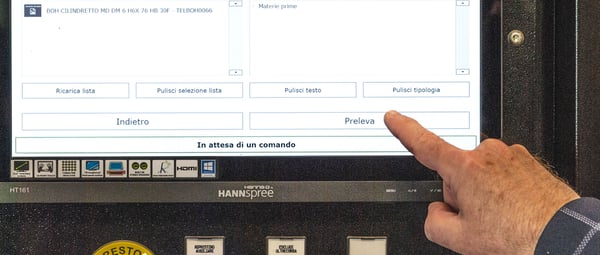 We talked about the robust structure of THE BOX and its many ergonomic advantages in the dedicated article.
Today we want to go into the details of what are the features on the software side and how SAU technicians have prepared a totally customizable application that can be integrated with any existing management.
According to the functionality we're going to explain the characteristics of the software that make unique the vertical automatic warehouse THE BOX.
Creation of users in the software of the automatic vertical warehouse
Thanks to the innovative software it is possible to:
Create and manage unlimited users
Create unlimited tasks
Create infinite families/types of products
Description of the products in the software of the automatic vertical warehouse
The software also allows you to:
Describe the product up to 256 characters
Search with a partial code

Search with partial description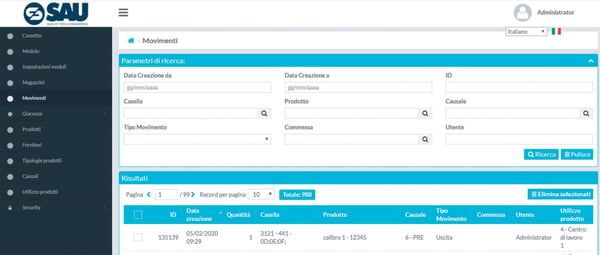 Product management on the software of the automatic vertical warehouse
For your products you can:
Manage the alert under stock and product reorder management
Manage the returnable items
Manage calibratable items and product expiry alert
Check the warehouse for a quick inventory verification
Manage product usage for customized analysis and reports
PLUS:

Creation of virtual warehouse for the management of the articles not located inside the warehouse automatic THE BOX
We recommend that you read the data sheet for even more precise information.
Advantages of the automatic vertical warehouse
THE BOX allows you to have no ties with the supplier, because it is not linked to any supply of materials, another critical issue of vending machines.
It is specially designed to hold any small and medium sized product, regardless of weight.
SAU technicians love to say: "A warehouse designed by toolmakers for toolmakers"
The advantages are many. If you understand the potential of the world's first automated vertical warehouse dedicated to tool management, do not hesitate to contact us for more specific information.
THE BOX organizes, controls and reduces waste.
Fill out the form below to request a free consultation.